Columbus, Hilliard, Dublin, OH Ridge Vents & Roof Ventilation
Bone Dry Roofing installs soffit, gable & ridge vents for effective ventilation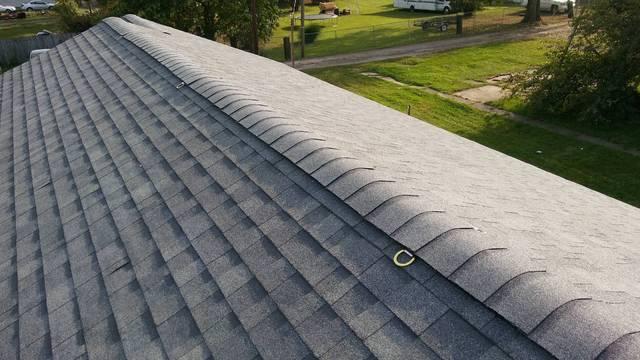 On a typical asphalt roof, the ridge vents have a layer of shingle over them, as shown in this photo. The vent lets the warm air out of the attic and out of this ridge vent.
Most people don't know about ridge ventilation, which makes sense, because most people just want the roof leaking to stop and be dry.
But it's an important thing to not overlook, because it can lower your utility costs, improve your living conditions in the home, and can even extend the life of your shingles too.
In the summertime, a properly ventilated roof allows hot air in the attic to escape, reducing the demand on your air conditioning system. In the winter, ventilation combines with good attic insulation to keep the roof surface cold, so that snow won't melt on the roof surface and then freeze to form ice dams along the eaves.
Here at Bone Dry Roofing we install and fix ridge vents and other roof vents too. We're the trusted experts in Greater Columbus because we're offered roof repair, roof replacement and more for many years to our customers, at affordable prices. Contact us today to start your FREE estimate in Columbus, Hilliard, Dublin and throughout Ohio.
Kinds of Roof Vents
There are different types of roof vents and different strategies for achieving effective roof ventilation. Here's a brief overview:
Add roof vents to ensure a long-lasting roof over your head
If your roof is not well-ventilated, ask a roofing contractor about improving roof ventilation with ridge, soffit or gable-end vents. All of these roof vents can be installed in an existing roof, or when your roofing is being replaced.
The specialists at Bone Dry Roofing can help you choose the right type of roof vents for your home. We can repair or install roof vents and improve your attic ventilation. We offer all our professional roofing services throughout Greater Columbus, including Columbus, Hilliard, Dublin, Newark, Lancaster, Grove City, Westerville, Delaware, Pickerington, Reynoldsburg and nearby. Call us at 1-844-385-9722 to get a free quote on any of your roofing needs.
Looking for a price? Get a no cost, no obligation free estimate.